So, while my ire is turned onto the low tier tanks, I thought I'd talk about some of my favorites- the French Fortress trio. These are, the Renault R35, FCM 36, and Hotchkiss H35. These tanks are all very similar in terms of play. They are slower light tanks, with great armor, and acceptable guns with good accuracy and fire-rate.
Today, I'd like to look at the Hotchkiss H35, and the "kiss of death" it imparts on it's foes!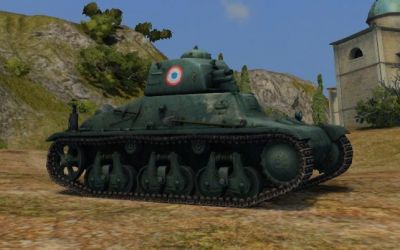 The H35 is one of the best early tanks for novice players. It's guns, particularly the 25 mm Canon Raccourci mle. 1934cannon is fast and superbly accurate. What it lacks in speed, it makes up for in versatility and reliability. It can take a beating from every other tank in it's tier, while also sniping from behind cover, flanking, and more.
In short, you can start rolling forward, and in tier-2 fights with a lot of Panzer 1's, Panzer 2's, and M2/T2 light tanks, just keep on going. The frontal armor on the H35 cannot be overstated.
In short, this tank is amazing, and I don't understand why more people don't love it.