In all World of Tanks matches, there is the almighty stack- the pile of allies that stand above or below you before the battle begins. Those above you posses greater armor, and usually more powerful weapons. Those beneath you are weaker, and likely posses less firepower. That is not to say every tank can't serve well, nor that a weaker tank does not have an equally important part to play, but it was always rather sad thinking about whatever unlucky soul (or even souls) were stuck at the "bottom of the stack".
One tank that found it's way there is the Vickers-Armstrong Mk.E type B, shortened to "VAE-B" in the game. The VAE-B has made it's home at the "bottom of the stack", but unlike other tanks that dwell here at higher tiers, the VAE-B is not out of it's depth in the slightest.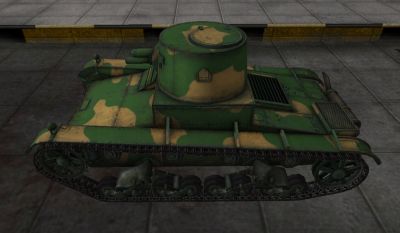 This little tank is one of the best tier-2 tanks in terms of ability. Though it has terribly weak armor, and it's starting gun and turret are unremarkable, it has no other serious flaws. It's relatively spry for it's tier, it's very maneuverable, and once equipped with the T-26 turret and gun, it can scrap with pretty much everything at medium range.
The tank is always at the bottom of the tier-2 stack, and that seems wrong to me. Though I know it's based on armor and hit-points, the VAE-B is a much more capable tank than some others placed towards the bottom of the stack, or even the middle in some cases (the maligned T3 HMC, for instance).
If you've played the T-26, and want more, then the Chinese tier-2 VAE-B is your baby. If you've never really tried the China line, don't let this thing stop you, it's a well-rounded little machine that will give you plenty of goodthings to work with, without any major shortcomings.
I give the VAE-B an 8 out of 10. Good tank, I will play again at some point.