So, it's been a while now, and the Czech tanks are no longer news of any sort now- totally eclipsed by Sweden and the Mauschen mini-maus that was just released in 1.19.1. So, being the weirdo I am, I'm going to take a quick look at the ST vz. 39/V-8-H tank, the tier 4 Czech medium tank, and what you can do with it.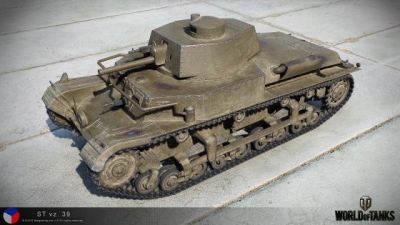 Historically speaking, the ST vz 39, also known as the V-8-H tank, was little more than a footnote in World War Two. Commissioned by the Czech government in 1937, the tank was designed and built by ČKD, who created two prototypes that were tested a few times, managed to survive the war and were then scrapped as most cool things were back then after they ceased to be useful.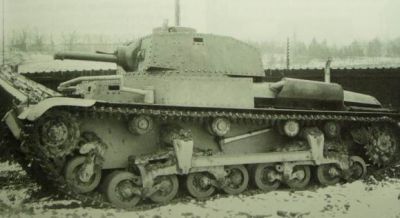 But, enough history, what can the tank do in World of Tanks? Well, at tier 4, the ST vz 39 is lightly armored, and packs a gun with moderate penetration and damage- comparable in many regards to the Panzer III ausf. J tank, though not quite as speedy. In terms of matchmaking, the ST vz 39 is a mixed bag, varying from good matchups where it can use it's good penetration and passable frontal armor to bash in the heads of tier 3 opponents, and bad matchups where it has to stare down KV-1s at tier 5.
For me, the St vz 39 was a grind of a tank to get through. It is not a brawler tank, nor does it have the penetration and accuracy to snipe- so it's best just offset the firing line, taking safe shots as it's able. It's armor is not great, so it has to rely on significant cover to survive a battle. However, this means you don't get too many experience points, and so you have to play it over and over again.
To maximize my XP earnings, I loaded a healthy dose of APCR rounds, and pushed towards the top gun as fast as I could. This is not a profitable tank, so I was fine losing the credits on premium ammo. It also makes it much more satisfying to play, as you can (finally) knock holes into more heavily armored targets.
Though it's not terribly fast, I equipped mine with binoculars and a camo net all the same, and did manage to find myself in good spotting positions in some games. When possible, this is another great way to get a bunch of spotting damage XP, which will almost always outweigh the amount of damage you can do in this tank before getting shot to bits.
I know I said previously that the ST vz 39 was one of the worst tanks in the game several times before, and though I've backed it out of the "worst" position (there are some nice Swedish tanks in there now), I do not have fond memories of this tank for the most part. It isn't fast, it's gun isn't great, and the matchmaker hates this tank- placing you in tier 5 and occasionally even tier 6 games, in which case you are cannon fodder and little more. It's more frustrating than bad, much like the LT 38 before it. Thankfully, it does lead to some much more rewarding tanks further down the tech tree, so the painful grind is ultimately worth it.